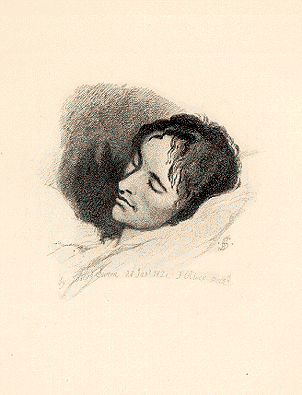 ~Keats~
Continue downward to Poetry that struck my heart, either giving me great pain or great pleasure but changing my life forever... .
Divine Torturers of the soul....
~The Poets~
After Great Pain, A Formal Feeling Comes
After great pain, a formal feeling comes--
The Nerves sit ceremonious, like Toombs--
The stiff Heart questions was it He, that bore,
And Yesterday, or Centuries before?
The Feet, mechanical, go round--
Of Ground, or Air, or Ought--
A Wooden way
Regardless grown,
A Quartz contentment, like a stone--
This is the Hour of Lead--
Remembered, if outlived,
As Freezing persons recollect the Snow--
First--Chill--then Stupor--then the letting go--
~ Emily Dickinson
-------------------
Longing
Come to me in my dreams, and then
By day I shall be well again!
For so the night will more than pay
The hopeless longing of the day.
Come, as thou cam'st a thousand times,
A messenger from radiant climes.
And smile on thy new world, and be
As kind to others as to me!
Or, as thou never cam'st in sooth,
Come now, and let me dream it truth;
And part my hair, and kiss my brow,
And say:"My love! Why suffrest thou?"
Come to me in my dreams, and then
By day I shall be well again!
For so the night will more than pay
The hopeless longing of the day.
~ Matthew Arnold
----------------
I arise from dreams of thee
I arise from dreams of thee
in the first sweet sleep of night,
When the winds are breathing low
And the stars are shining bright.
I arise from dreams of thee,
And a spirit in my feet
Has led me - who knows how? -
To thy chamber window sweet!
The wandering airs they faint
On the dark, the silent stream. -
The champak odors fall
Like sweet thoughts in a dream,
The nightengale's complaint,
It dies upon her heart,
As I must die on thine,
O, beloved as thou art!
O, lift me from the grass!
I die, I faint, I fail!
Let thy love in kisses rain
On my lips and eyelids pale,
My cheeck is cold and white, alas!
My heart beats loud and fast:
Oh! press it close to thine again,
Where it will break at last!
~ Percy Bysshe Shelley
-----------------------
Sonnet XXIX
When, in disgrace with fortune and men's eyes,
I all alone beweep my outcast state,
And trouble deaf heaven with my bootless cries,
And look upon myself, and curse my fate,
Wishing me like to one more rich in hope.
Featured like him, like him with friends possess'd,
Desiring this man's art and that man's scope,
With what I most enjoy contented least;
Yet in these thoughts myself almost despising
Haply I think on thee, and then my state,
Like to the lark at break of day arising,
From sullen earth, sings hymns at heaven's gate,
For thy sweet love remember'd such wealth brings
That when I scorn to change my state with kings.
~ William Shakespeare
-----------------------
Forgotten
More than bored
Sad
More than sad
Unhappy
More than unhappy
ill
More than ill
Abandoned
More than abandoned
Alone in the world
More than alone in the world
In exile
More than in exile
Dead
More than dead
Forgotten.
~Marie Laurencin
-----------------------
'Pardon the faults in me,

For the love of years ago:

Goodbye.

I must drift across the sea,

I must sink into the snow,

I must die.'


~Christina Rossetti
-------------------
I dreamt a dream-a dream divine
In dream I dreamt I could not wake
Sleep swept along my living veins
Like and anchor to my mortal frame
I sank in the cold silence-like the fog above the grave
The spirit bears the mortar of indifference
The body-the ground upon which it is laid
One by one the sorrows approached me
Solitude led the way
She laid her head against mine own
Then cradled me in her arms and silently prayed
Innocence soon came-haggard and forlorn
She paced like a tiger and sang an old refrain
Then Love came and claimed her throne
Above my head where the grass grew long
She placed her hands above my heart
Then closed mine eyes and folded my arms.
Innocence followed-all about me petals and gauze was placed
She laid herself full down
And set them All ablaze.
~O.P.R.
-------------------------
When We Two Parted

When we two parted
In silence and tears,
Half broken-hearted
To sever for years,
Pale grew thy cheek and cold,
Colder thy kiss;
Truly that hour foretold
Sorrow to this.

The dew of the morning
Sunk chill on my brow--
It felt like the warning
Of what I feel now.
Thy vows are all broken,
And light is thy fame;
I hear thy name spoken,
And share in its shame.

They name thee before me,
A knell to mine ear;
A shudder comes o'er me--
Why wert thou so dear?
They know not I knew thee,
Who knew thee too well:--
Long, long shall I rue thee,
Too deeply to tell.

In secret we met--
In silence I grieve
That thy heart could forget,
Thy spirit deceive.
If I should meet thee
After long years,
How should I greet thee?--
With silence and tears.
---------------------
Insomnia




Thin are the night-skirts left behind
By daybreak hours that onward creep,
And thin, alas! the shred of sleep
That wavers with the spirit's wind:
But in half-dreams that shift and roll
And still remember and forget,
My soul this hour has drawn your soul
A little nearer yet.

Our lives, most dear, are never near,
Our thoughts are never far apart,
Though all that draws us heart to heart
Seems fainter now and now more clear.
To-night Love claims his full control,
And with desire and with regret
My soul this hour has drawn your soul
A little nearer yet.

Is there a home where heavy earth
Melts to bright air that breathes no pain,
Where water leaves no thirst again
And springing fire is Love's new birth?
If faith long bound to one true goal
May there at length its hope beget,
My soul that hour shall draw your soul
For ever nearer yet.
~ Dante Gabriel Rossetti
-------------------
Taken

Tear down my shield of silence,
Break it with words that cause a
Reaction within me that
Strips me of my protection.

Open my skin with your nails and
Scratch my heart to
Painful ribbons
Without meaning to.

In saying nothing I was safe.
In keeping quiet I was whole.
The silence shattered, I stand alone.
You with your words have left me
With only myself to blame.

Accidental violation can hurt just as much.
Unintentional vulnerability can feel just the same.
If you had meant it, perhaps
It would have had purpose.
Purpose, at least, I would then have.

You have taken my shelter,
Given me naked to the storm.
Your altar is cold,
Your cross is high,
Your toll yet paid
I cannot afford.

My thoughts are your mentality,
My actions, your sequence.
With nothing of my own,
I too am yours.

Strike where I am nothing.
Wound me where I am incomplete.
Because now, my truth spoken,
I am empty without it.
I am nothing;
And nothing can save me now.