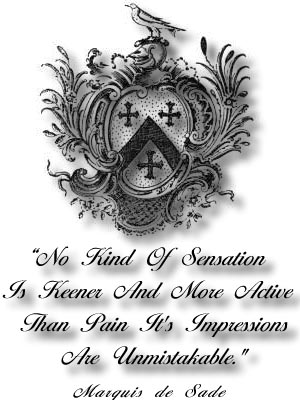 My Favorite Erotic Literature
The Leash
The story of Vanessa Durieux and her initiation into SadoMasochism, her paradox love for Pierre, the Master with a capital "P". The world she steps into is a world of leather and latex, of cuffs and screws, of pinchers and clamps. During the rituals , the student Vanessa, transforms into the slave Laika, a personality that is prepared to do anything to reach the highest degree of perfection.
She is raped, tortured, humiliated and treated as a prostitute, but undergoes these tests out of love for her Master, who derives pleasure out of her humiliation. In the course of some of the sacrificial initiation-rituals, she analyses the muysterious bond that connects Master and slave, a bond only exsisting by the grace of the her, "the slave". For ultimately, she, determines the limits. She is the only true Mistress. Even with a leash around her neck, even with golden rings pierced through her labiae.
The Leash tells the true story of an affair in love & pain, of mental and physical dominance and slavery, told in an almost naive candour. When The Leash was published, Vanessa Durieux was 21 years old studying Literature. A few months later she, together with a few friends died in a fatal car crash.

To be continued......